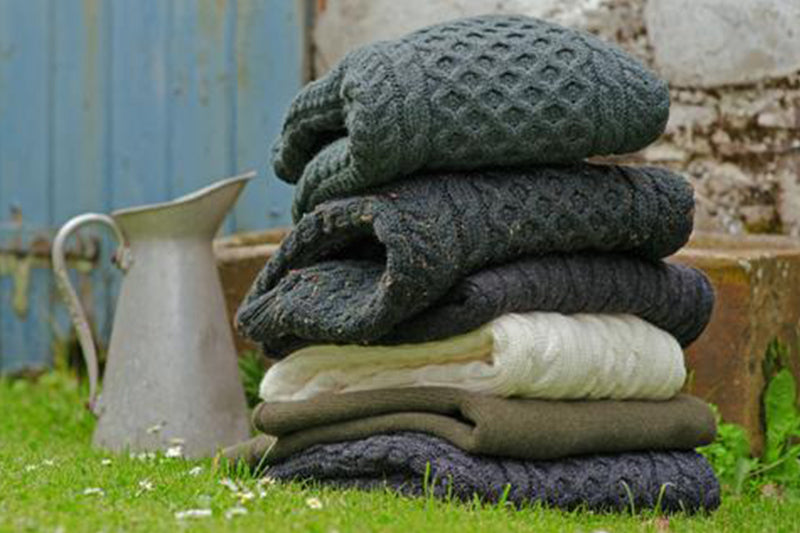 The Meaning and History of the Classic Aran Sweater
Just off the rocky shore of county Galway, off the west coast of Ireland, lies a trio of islands; the Aran sweater takes its name from this isolated but beautiful place. An Aran sweater is more than a comfortable classic; it is a piece with a long and enduring history and every stitch has a meaning.
Knitters of the past created these classics for fisherman battling the harsh, cold Atlantic seas. Using wool for insulation (wool retains warmth even when wet) and a variety of meaningful stitches, a knitter could create a piece that offered true utility and a dash of luck for the wearer. Wool was often harvested and spun from a family's own sheep; this resulted in a thick and warm garment that would withstand all types of severe weather. Every night, the clicking of bone and wood knitting needles could be heard throughout the home as Aran sweaters, socks and other garments were created for loved ones.
Over time, each clan developed their own favourite patterns; from the delicate diamonds, which assured the wearer that wealth and fortune would follow to the traditional honeycomb, a symbol of good luck. Sweaters and favourite patterns were handed down from father to son and mother to child, so a loved one would always be warm.
The enduring appeal and charm of this style of sweater helped it remain popular even after modern heating and technology made it less of a necessity. By the 1950's the Aran sweater was already a hit with fashion designers around the world and remains a timeless classic today. The Clancy Brothers, an Irish folk group adopted the Aran Sweater as their trademark on stage garment. After appearing on the Ed Sullivan show and in a televised performance for US President John F. Kennedy, the demand for Aran Sweaters increased dramatically leading to difficulties fulfilling orders throughout the 1960s. 
Today, the classic fisherman sweater has become a lasting hallmark of Irish style and a way to connect with one's Irish roots. The rustic wool of days past is often replaced with springy, soft and wearable merino wool, but the classic patterns, intent and deep history remain. While you may never have to rely on it to keep you warm on an ocean voyage, an Aran sweater is a warm and meaningful addition to any wardrobe and a classic that will never go out of style.